OUR 
HISTORY
College administrators at Southern Polytechnic State University located outside Atlanta, GA originated the concept of GYSTC. After carefully reviewing the types of efforts being made across the country to improve math and science education, several things became apparent: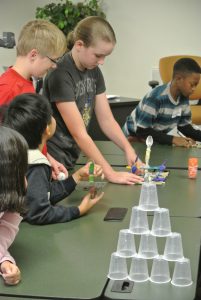 Programs would only work if they were area autonomous
Adequate funding and support would require a strong partnership among education, government and business leadership at the local and state level
High school was too late to focus on encouraging interest and enthusiasm in math, science and the technologies – there was a need for special support at the elementary and middle school level, both for students and teachers
GYSTC was founded in April, 1989 and the first regional Center opened in 1990. The concept was very popular and by late 1997, the eight current Centers were in operation. Each Center has its own board of directors involving more than 150 local business, education and government leaders. Seven of the Centers are located on Higher Education campuses. Since the first Center opening more than 2.5 million students, teachers, parents, school administrators and others have participated in GYSTC conducted or sponsored programs.