GYSTC had a 30th Celebration at Southwest Center
Southwest GYSTC began with stars in its eyes.Southwest GYSTC was built with eyes to the sky but feet firmly planted in the earth. The architecture of its one-of-a-kind free standing Center was designed to accommodate the planetarium's infrastructure one in which children from nine participating counties could gaze at starry skies and marvel at the earth's planetary companions as well as the earth itself. Earth is important in Decatur Coun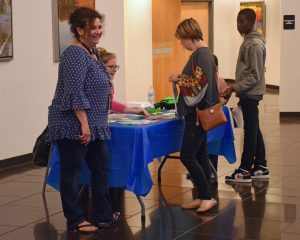 ty, SW GYSTC's home. The earth's bounty in that area allows for the existence of multiple agricultural industries that contribute significantly to the Georgia economy through peanut, soy bean, corn and cotton production. Advances in technology have made this rural, agrarian area a major contender for trained STEM workers as farming and related industries continue to rely on science and engineering to automate and expand their businesses.
Southwest GYSTC was established in 1996 with the enthusiastic support of citizens of Decatur County and eventually the participation of eight surrounding counties as well. In addition to parents, school districts, community leaders, volunteers and teachers, SW GYSTC also attracted the support of corporations like AMOCO Fibers, International Paper, Georgia Power and numerous local businesses. The State GYSTC Office matched donated funds. State GYSTC also supplied general oversight and the template which gave the new Center direction to align itself with the programs and guidelines of other Centers already in existence. Original board members like John Monk, now retired, fondly remember the excitement of that time as plans were laid to construct one of the few GYSTC Centers that would be stand alone, affiliated, but not housed within the facilities of another institution.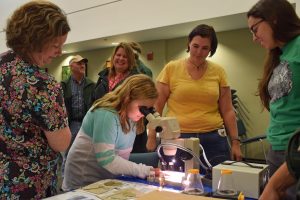 Independent though it is, Southwest GYSTC was fortunate to be able to access the many resources of the former Bainbridge State College, Abraham Baldwin Agricultural College and Southern Regional Technical College, now merged to create a new institution which is generous with its support of the Center and its programs. Those programs include the technology of space through planetarium activities, STEM Days & Nights, Discovery Camps, Field Trips, exhibits and career development projects that emphasize STEM careers – especially those related to agribusiness and other local industries like poultry and timber.
From the beginning, numerous board members, State GYSTC and local Center staff Donna McGlincy and Paula Chambers have played pivotal roles in the development and success of SW GYSTC. Through times of peak activity and slower periods when the local and national economies were impacted by diminished funding, the mission of SW GYSTC and its commitment to the community it serves never wavered. Today the challenge is to keep pace with the myriad rapid-fire developments in STEM disciplines and to rely on all available expertise to guide area youth into careers that benefit themselves, their families and our state. Current Regional Coordinator Tammy Nowell continues to meet the challenge. Retired board member John Monk is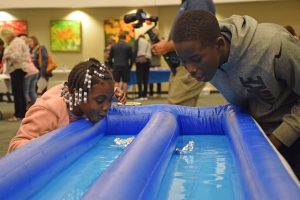 encouraged by the wealth of burgeoning STEM careers in agriculture that tomorrow's STEM graduates will have at their disposal.
Robotics, drone technology, feed and fertilizer improvements, insect control, crop consolidation and transport are but a few of the high tech, highly paid careers SW GYSTC students may aim for. The fact that so many employment opportunities exist and will only increase in the coming years, bodes well for the retention of bright students in the area whose talents continue to be nurtured by the dedication and excellence of SW GYSTC. The future is promising indeed!