GYSTC had a 30th Celebration at West Center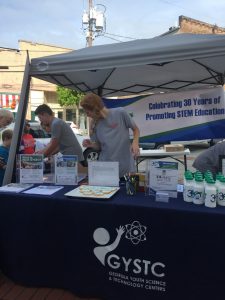 On Wednesday April 1, 1992, the very first Board of Directors of the West Georgia Youth Science & Technology Center met at the Warren Sewell Memorial Library in Bremen, Georgia to kick off a very successful regional center. Jim Thompson, President and CEO of GYSTC welcomed the new members and named the following interim officers: Co-Chairman were Pete Cofer and Warren Conoly, Vice Chairman and Chairman of Finance Committee was Terry Crawford, Secretary & Treasurer was Becky Echols, and Chairman of Site Selection Committee was Pat Waldrop. Besides the Executive Board, Jody Parker, Jim Long, Gene McCall, Tim Whitehead, Tom Upchurch, Tina Knight, Jimmy Haddle, Richard Dangle, Amandy Hyatt, Dennis McBrayer, and Melvin Reeves all served as board members. At this first meeting, the regional agreement was shared, and the job descriptions and guidelines for the regional coordinator was discussed. There was a discussion whether the site of West GYSTC would be held at West Georgia College (University of West Georgia) or Paulding County School System. Further discussions had to take place for that decision to be made. Pat Waldrop did make sure that every school system will be represented on the site selection committee. From the very first meeting, the Finance Chairman, Terry Crawford, asked the board to begin thinking of fund raising activities and to think in terms of three year financial commitments. Many of the decisions made at this very first meeting still take place today.
A little over a month later, the Board of Directors met again over breakfast at the Paulding County Board of Education in Dallas, Georgia hosted by Dr. Allene Magill, Superintendent of Paulding County Schools. Many decisions were made on the morning of May 20, 1992 that became the catalyst for STEM education in the West Georgia area. From reaching out to an attorney to answer liability questions to probing over every detail in the Article of Organization, the first Board of Directors made sure the organization had a firm foundation. The agreements between Georgia Youth Science & Technology Center, Inc and West Georgia Youth Science & Technology were presented. Finally, Terry Crawford presented the Treasurer's report. Southwire committed $10,000 to seed or start the organization. For the 1992-1993 school year, five school systems joined bringing in $24,000. At this time, the state GYSTC agreed to match equally unrestricted contributions raised by region centers up to $30,000. During 1992, the DOE is involved, but procedures and a contract are still being worked out.
The 1992 summer passes, school systems are starting another school year, and on September 1, at West Georgia College, the West Georgia Youth Science & Technology Center opens its doors with Mike Kirkland becoming the first Coordinator. West GYSTC was marketed to educators through a media and publicity plan designed by Communications Specialist of Southwire, Tim Whitehead. At this time, the center was used to encourage local educators to come to the center to collaborate and plan lessons together.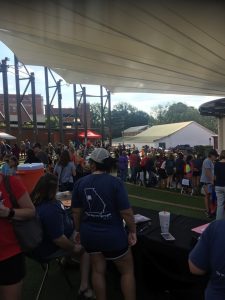 Over the next twenty years, the Board of Directors fluctuated between 12 – 20 members; all volunteering their strengths and resources to support educators in the West Georgia community. Some of the board members that have served West Georgia Youth Science & Technology Center include, Richard Miller, Carl Battles, Gene McCall, Jody Parker, Cheryl Stephenson, Leon golden, Bobby Hollis, Kathryn Shehane, Keller Torrey, Jim Underwood, Georgia Evans, Dr. Gail Marshall, Tina Knight, Janice Boatwright, Dr. Jim Boyd, Ronnie Williams, Lorraine Lambert, Dr. Doris Marlow, Ed Cahil, Carol Hight, Tony Childers, Dudley Spruill, Gene McCall, Sammy McClure, Jean Reeves, and Doris Marlow. As we move into the more recent history, Tim Martin, Beleta Anderson, Lealon Anderson, Will Berry, Jackie Fillingim, Dawn Hudson, Pete Meadows, Cindy Saxon, Donna Lackey, Dawn Hudson, Janis Parrish, Karen Pate, Pam Walker, Blake Swafford, Erin McGinnis, Bill Denney, and Janet Goodman served on the Board of Directors.
Collaboratively throughout the years, the Board of Directors, University of West Georgia College of Education and the state GYSTC, Inc. Directors have secured quality coordinators to lead the organization to pursue its mission of providing quality programs for teachers of STEM subjects that improve the teaching and learning process at the kindergarten through eighth grade levels. From 1992-1996, Mike Kirkland kicked off the professional development piece to inspire teachers in the science and math fields. Four years later, Lance Jones came on board as the coordinator and brought about more programs and ideas to support teachers. The beginning of the 21st century brought Kathy White to West GYSTC. During her five years with West GYSTC, she developed amazing day and overnight field trips for educators to provide experiences that they can bring back to their students. Steve Rich served a two year term as coordinator before Jaymee Herrington became coordinator in 2007. During his three years as coordinator, he developed science programs for students to dig deeper in their interests. In 2010, Steve Rich was drawn back into the excitement and became coordinator for another five years. During that time, Steve brought the classroom outdoors through his publications, Outdoor Science: A Practical Guide and Bringing Outdoor Science In: Thrifty Classroom Lessons. After serving another five years as coordinator, Steve retired and Cathy Fontenot became coordinator. Currently, Cathy, along with staff and volunteers, is providing exciting student programs and innovative professional learning to teachers in the West Georgia area.
West GYSTC is enthusiastically serving the following counties: Bremen City, Carroll County, Carrollton City, Douglas County, Haralson County, Heard County, Oak Mountain Academy and Paulding County. One of the strengths of West GYSTC has been support from the community. This has included grants from the Community Foundation of West Georgia, Southwire, the United Way, Bellsouth, Carroll EMC, and United Community Bank. Most importantly, the participation of area leaders in industry serve on the center's Board of Directors. Among the businesses that helped to organize the center in 1992 were Southwire, Tanner Medical Center, Greystone EMC, and Georgia Power. Southwire provided legal support for the incorporation, and Georgia Power provided significant funding for large equipment such as the portable Starlab planetariums. As with previous Board of Directors, our current Board of Directors tirelessly volunteers their time by sharing their strengths and passions of STEM education with our community. Our current representatives from the education sector are Melanie Brooks, Anna Clifton (Vice- Chair), Delisa Gledhill, Sarah Graham, Mandy Johnson, Dr. Marissa Ogando, Dr. Brian Ridley, and Christa Smith. Our business and industry representatives consist of Victor Rundquist (Chair), Donna Lackey (Secretary), Lealon Anderson (Treasurer), Dr. John Green, Martin Smith and Kathy Yates.
While the original mission of the organization was "To make science, math and technology fun and exciting for young students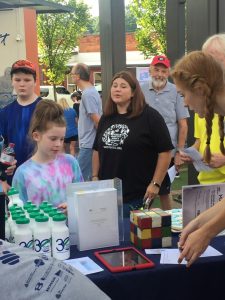 and their teachers," West GYSTC has added increasing achievement in all of the STEM fields to its mission. This is accomplished through programming for students and teachers. All programs are standards-based supporting the Georgia Standards of Excellence.
The original logo of GYSTC was a tri-fold paper airplane, which symbolized the organization's practice of making hands-on science both affordable and fun. When the organization rebranded 20 years after its founding, the newer logo with the child holding up an atom was adopted. It symbolizes the possibility that every child holds for achievement in science and all of STEM.
West GYSTC has been committed to providing innovative programs for students in the hopes that a spark of inspiration will develop in their young minds to pursue a career in a STEM fields when they grow up. In the future, West GYSTC feels confident that more students and teachers will be reached in our west Georgia community.